Is Yoga the secret weapon for Tennis? Interview with US Navy Fitness Trainer Marcia Gray
LISTEN Now on Apple  or Google 
wherever you listen to Podcast Anchor : Spotify : Breaker : CastBox : Overcast : PocketCasts : RadioPublic : Stitcher 
Listen on Youtube
In this episode of TennisPAL Chronicles we look into the benefits of Yoga on the body of a tennis player.  Our guest, Marcia Gray, was born and raised in Washington State. She attended University of Washington as a Sociology major.  Being in the taller spectrum, Marcia played basketball all the way through high school. Her favorite activities are water skiing, snow skiing, and in the gym-jump rope is a perennial go to.  A self-described gym rat, Maric always finds herself chasing the endorphin rush of exercise and weight training.
Ms. Gray picked up tennis for life almost 10 years ago as "a fun way to spend time with my son while he was on college breaks. That was all it took, and I was bitten by the bug for good."  She currently plays in women's double leagues, and round robins, and typically tries to make it to Indian Wells each year for the BNP Paribas Open ( except this year of course).
Her journey as a fitness trainer started after marriage.  "After I married a Navy officer-life was a constant stream of moving all over the country pretty much every 22 months" says Gray.  "I  loved the new adventures of military life, and even today still miss those days. Eventually, I landed in Hampton Roads (Norfolk/Virginia Beach) which is home to the world's largest Navy base.  I became certified as an ACE CPT (certified personal trainer), ACE GEI ( group exercise instructor), and then a US Navy Fitness Trainer where I served for about 7 years. While there, I certified as a TRX Trainer and Pre-Natal Fitness Trainer as well which allowed me to better serve the large population of military service men and women, their families, retirees, and Dept. of Defense civilians.  I can honestly say I absolutely loved my job!"
Marcia had great opportunities to work with people from all over the world with fitness goals such as; helping military members stay mission ready, assisting moms to be on their pregnancy journey with fitness geared toward their specific needs. She regularly led large ship commands up to 50-100 people in their PRT's. (Physical Readiness Test) either indoors at the Navy gyms, on the flight deck of US Navy ships, or right on the beach.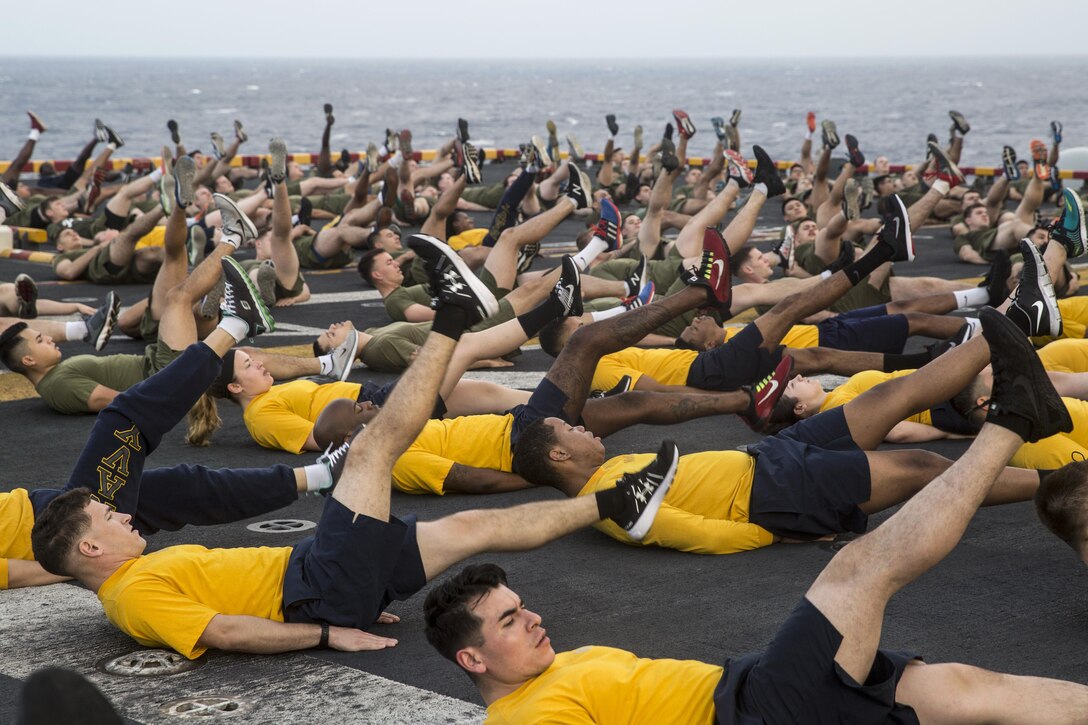 While at the Navy base, an opportunity arose to start a yoga program for the Navy community.  " I jumped at the chance. I completed my 200-hour CYT (certified yoga teacher) certification and taught initially on the navy base for 3 years."  She then branched out to the surrounding community where she teaches now at a yoga studio in Virginia Beach.
"I love how yoga is such a beneficial addition to any fitness routine, and I specifically like to work on our shoulder girdles and our hip rotation for any of my students-because not only is it beneficial for everyone, but particularly so for tennis players with all the shoulder and hip turns with your stroke. Your mobility for your serve, and your open hips for that footwork. I invite my students to just explore your body's movement while leading them in a fun and creative class."
In her spare time, you will find Marcia on the tennis court. "My fave surface is a hard court and in the scorching high East Coast, summer humidity, I like to play indoors. Otherwise-love playing outdoors. Plus my French Bulldog Louie is a tennis fan and loves to retrieve the balls for me while running around on the court."
Thanks so much!
Marcia Gray
@seattlemgray
---
TennisPAL for iPhone and Android is an app for anything tennis. It connects you with other players and coaches to chat, schedule play time, and share moments with. Download the app today at Tennispal.com!  While you are waiting for Tennis to reopen why not meet some new tennis friends online with TennisPAL!
Just want to say that during the COVID shutdown TennisPAL has continued to sponsor and support this podcast so a huge thank you to Haleh and the whole TennisPAL team for making this podcast happen!