US OPEN 2020 Are you in? updated with Complete Men's and Women's Draw!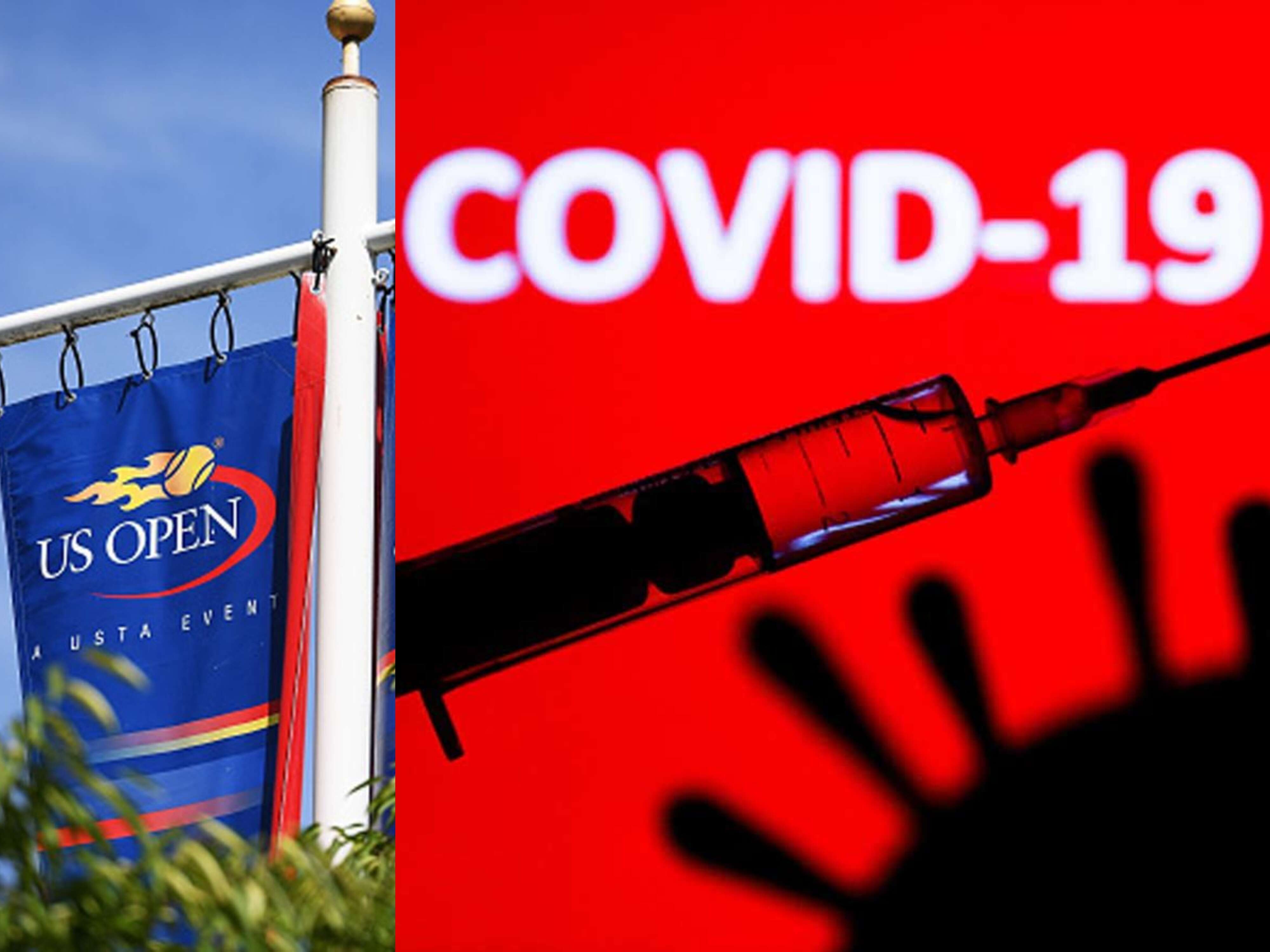 With only a week to go for the US OPEN Tennis Tournament, there is no turning back now Covid be damned.  I am sure the United States Tennis Association is doing everything they possibly can to make the Tennis Bubble the safest possible place for players, employees, and all those allowed in.  It's a daunting task that is costing the NBA over 2 million dollars and Covid-19 testing every day for every player.  We don't know the specifics of every regulation that the USTA will be implementing but we hope it will be enough. The US Open will look very different from the tournament started in 1881. It has changed from an exclusive men's singles and doubles tournament in Newport, R.I., to a 2-week sports and entertainment blockbuster held in Flushing, N.Y. It is by far the largest fundraiser for the United States Tennis Association.  Due to COVID-19, this year's US Open will be played without fans in the stands and on the grounds.
LISTEN Now on Apple  or Google 
wherever you listen to Podcast Anchor : Spotify : Breaker : CastBox : Overcast : PocketCasts : RadioPublic : Stitcher 
Listen on Youtube
Welcome to TennisPAL Chronicles the podcast to feed your passion for all things tennis!  This podcast is sponsored by TennisPAL: TennisPAL for iPhone and Android is an app for anything tennis. It connects you with other players and coaches to chat, schedule playtime, and share moments with. Download the app today at tennispal.com!  
In this episode, Valerie and I break down the makeup of the current US OPEN roster with the caveat that it could change daily.  Here is a partial list of noteworthy players who are IN OR OUT.  What we know so far is the following:
WOMENS Players who are confirmed IN
Serena Williams
Coco Gauff
Sloane Stevens
Joanna Konta
Sofia Kenin
Karolina Pliskova
Naomi Osaka
WOMENS Players who are confirmed OUT
Petkovic, Halep, Bencic, Andreescu, Kuznetsova, Svitolina, Bertens, Barty #1, Pavluunchecova, Goerges, Stosur, Quiang Wang
Here are some links to official withdraw announcements
Ashleigh Barty (AUS) — Australian Associated Press
Kiki Bertens (NED) — US Open official release
Barbora Krejcikova (CZE) — US Open official release
Ann Li (USA) — US Open official release
Elina Svitolina (UKR) — US Open official release
Men's Players who are confirmed IN
Novak Djokovic
Andy Murry
Alexander Zverev
Dominik Thiem
Danil Medvedev
Marin Cilic
Stefano Tsitsipas
Marco Berretini
Men's players who are confirmed OUT
Nishikori, Nadal, Federer, Kyrgios, Tsonga, Wawrinka, Poiulle, Monfils
Here are some links to official withdraw announcements
Federico Gaio (ITA) — US Open official release
Nick Kyrgios (AUS) — The Guardian
Rafael Nadal (ESP) — Twitter
Alexei Popyrin (AUS) — US Open official release
Click this image to access the complete Men's and Women's Draw for the US OPEN 2020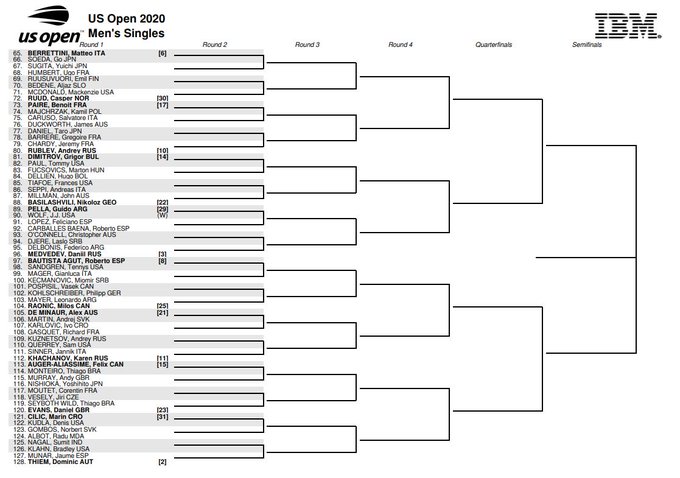 RANKINGS
Ahead of the season's resumption, the ATP has now confirmed that the rankings will be revised to cover a period of 22 months, from March 2019 to December 2020, with the rankings having been frozen since March 16. 
This temporary change will be comprised of a player's "Best 18" results in the 22-month timeframe. 
A player cannot count the same tournament twice, however, with the best of their two results counted. 
Tournament points added in 2020 will remain on a player's ranking for 52 weeks, or until the event is played again in 2021. 
It's gonna be one of the strangest US OPEN Tournaments in history and goes along with our theme that 2020 is not playing nice.
UPDATED:
Djokovic path to 18th major title (if seeds hold): R1: Dzumhur R2: Edmund/ Bublik R3: Struff R16: Isner / Carreno Busta QF: Goffin/ Shapovalov SF: Tsitsipas/ Zverev F: Thiem
Thiem's Path to @usopen final (if seeds hold)? R1: Munar R2: Nagal/Klahn R3: Cilic R16: Auger-Aliassime/ Evans QF: Bautista Agut/ Khachanov/ Raonic? SF: Medvedev/ Berrettini/ Rublev?
I think all of us think that Dominic Theim is going to be in very good shape at the US Open, since he had played 28 exhibition matches, on all 3 different surfaces, and looks to be in strong shape. But what does it mean that Filip Krajinovic in second-round action at the Western and Southern Open took out Thiem fairly easily, 6-2 6-1??  What does it say for his chances in US OPEN and his confidence level going into this second slam?
IT is possible Thiem needs a little time to get used to the courts at the Billie Jean King National Tennis Center? Also worthy of mention is the fact that the Austrian will likely play on Armstrong or Ashe courts which some are saying play slower than the others. Thiem has a pretty good history at the open. He's made at least the 2nd week on four of his 6 appearances and reached the quarters in 2018.   It was also here that Dominic famously nearly upset Rafael Nadal in a five-setter that was the match of the tournament.  Now that Djokovic is the only one of the Top 3 players in New York, we feel his chances are better than good.