See the most gorgeous and expensive tennis bag in the world designed by Alison van der Lande !
Did you ever wish you could have a tennis bag with the elegance of Grace Kelly and the purity of Wimbledon whites?   I am so honored to review the new Tennis Case from famed designer Alison van der Lande.  I agree with the description Ms. van der Lande gives on her website : "This is possibly the finest tennis case money can buy and certainly the perfect present for the discerning player. "
English designer, Alison van der Lande, had this to say about who she created this collection for tennis;  "We felt that the tennis market was very orientated towards man-made materials, huge logos and not always aesthetically beautiful.  We wanted to make a bag that brought functionality, practicality, and durability together with style, elegance, and long-lasting quality, using the best natural leathers and craftsmanship."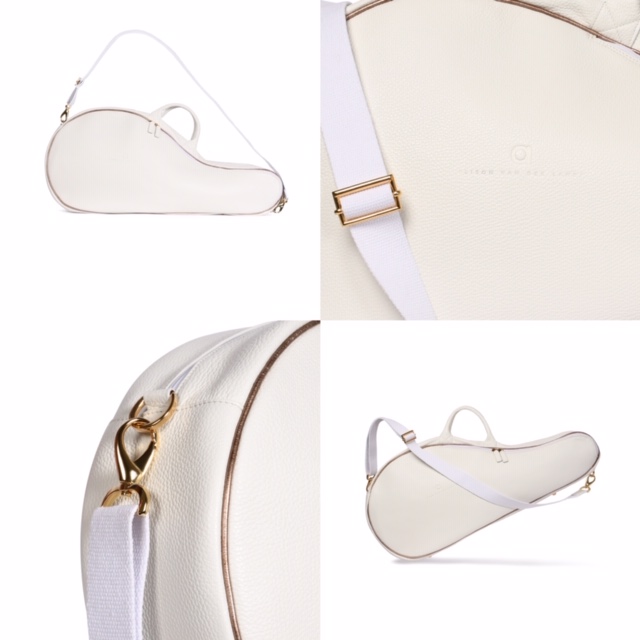 Everything about this case whispers luxury.  The beautiful gold-trimmed carry handles, the metallic large zippers with leather pull tabs, and the simplicity of the lines on this bag work together to create a stunning impression.  This is a minimalist dream with space for one racquet and a secret inside zipped pocket for the essentials.  This is definitely not the bag to store your smelling shoes or 4 substitute racquets with different string tensions.  The simple two-section storage areas are just enough for the player who needs nothing but a racquet and their skill.  This version I received for review is a singles bag which is obviously for a single racquet. There is also a double bag that is much bigger and takes 2-3 racquets plus a few tennis niceties like hand sanitizer… just saying. The choice is yours if you want the chic lightness or utility of extra racquets.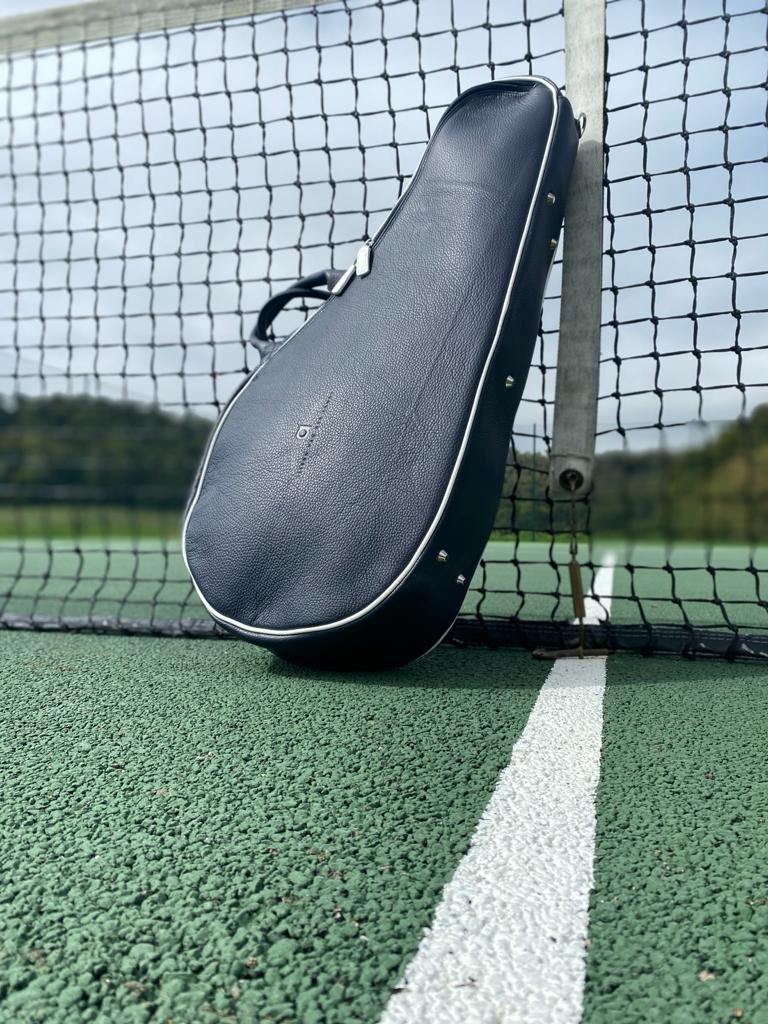 The tennis case is light on the shoulder and sports a rich leather detachable shoulder strap that is adorned with gold plated sturdy hardware to keep your investment secure.
If you are looking to fly in the jet-set of sir Richard Branson pictured here with the same Alison van der Lange brown vintage leather tennis bag, I highly suggest you click over to their website to see elegance in motion.
If you are looking for a more masculine New York Open Darth Vader look, why not this? Tennis is the new Black.
This bag definitely matches the Aston Martin it's pictured with in this video!
For the country club women's doubles set who will not be out down there is this case
No matter what your flavor, walking on to court with Alison van der Lande in hand assures you make a statement that tennis has always made, this is a game of love.
See the whole range of colors available!  Visit the site here