Rafael Nadal the King of New York 2013
Without a doubt, the strongest and most feared tennis player in the ATP is Rafael Nadal.  Winning his 2nd title at the US Open on Monday Night to a packed audience, Rafa defeated world No.1 Novak Djokovic 6-2, 3-6, 6-4, 6-1.  This win brings his perfect record on hard courts this season to 22-0.
There were glimpses of the 2011 dominant Djoker in set 2 where Novak was firing on all sides and hitting the lines but unfortunately he could not sustain the high intensity of play in the next two sets and seemed to almost give up hope in the last set spraying easy winners and net play with unforced errors.  And the UFEs was the story of the match as Djokovic end the match with 53 errors which gave Nadal the match.
One highlight of this final was the 54 shot rally both gladiators endured running a combined 900 feet which Nadal won giving him his second serve break of the the match.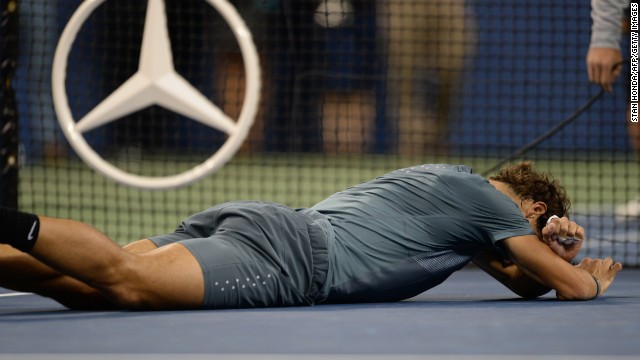 Nadal leads their overall FedEx ATP Head2Head rivalry 22-15 overall, winning eight of 11 meetings in the majors. Djokovic leads 11-7 on hard courts.  This was their third US Open final meeting: 2010 (Nadal in four sets) and 2011 (Djokovic in four sets).
will update this post with post match interviews and Youtube link of full match when available.  check back!
UPDATE : Rafael Nadal Vs Novak Djokovic FINAL HIGHLIGHTS US OPEN 2013 [HD]