Federer stumbles but does not fall to Simon in record win!!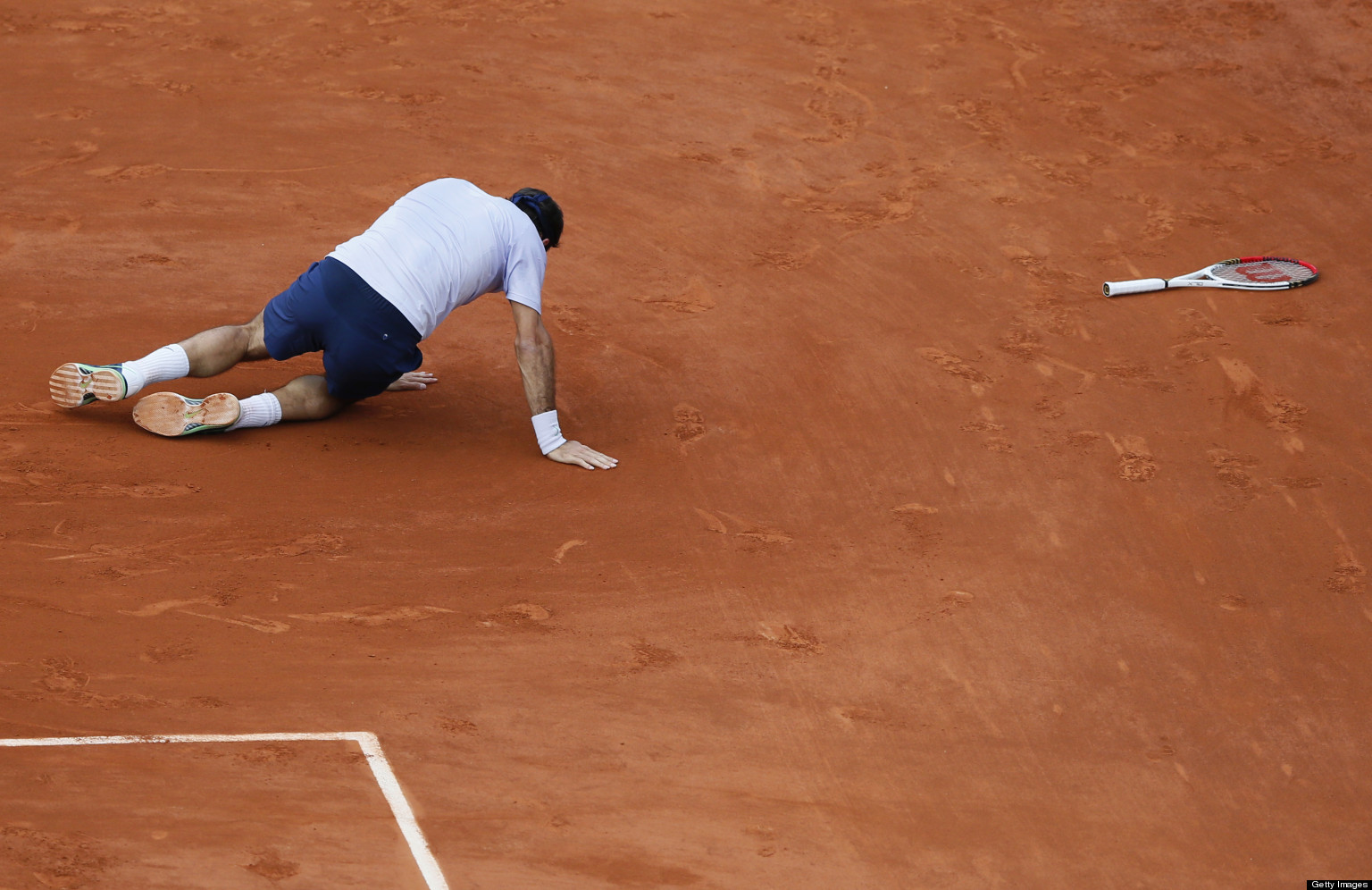 The Greatest tennis player of all time was taken by surprise when his right shoe was caught in the red clay of Roland Garros today twisting that foot and stumbling to the ground.  It was honestly the first time I can remember seeing Federer take a tumble like this during a game.  Federer is known in tennis as a ballet dancer on the court thanks to his amazing footwork and smooth transitions so it was with amazement that the crowd gasped as he tumbled.  Thankfully he was not hurt in any way and it looked much worse than it was.  In the post interview Federer did admit that the stumble did knock him off his game a bit and I have to believe he was also a little embarrased as mentally he checked out of the next few games.  This stumble also seemed to empower Giles Simon to attack and play his best tennis.  Roger said it was a lot of different influences that created a loosing situation for him.  "I didn't hurt myself or anything," Federer said. "But maybe I did lose that touch of confidence for a little bit, and then I was out of the match there for a bit."
Here is Federer's post match interview [youtube=http://www.youtube.com/watch?v=WdTP8ZPdqcM]
However being the champion that he is, Federer regrouped and restored balance to the force eventually coming back from a 2 set to 1 position. He described it as being able to "tidy up my play."  So cute.  In the end, he beat another frenchman on his own turf Gilles Simon 6-1 4-6 2-6 6-2 6-3.  Federer said the match will give him "a lot of info" heading into his quarterfinal against another Frenchman, No. 6-seeded Jo-Wilfried Tsonga.
This win is historic for Federer as it is his 900th tour win and a 58th win at Roland Garros.
"It was a great atmosphere in which to play like this. It became difficult in the second set as Gilles turned it around," said Federer, who had 56 unforced errors.
"I am proud of the record (of 36 quarter-finals in succession). It's a lot of years, a lot of sacrifices and a lot of matches like this. I knew 900 was on the line. I'm just happy I have been able to win a lot of matches throughout my career, myself an opportunity over and over again. I love this game."