Federer flunks out of Madrid Open and looses No#2 rank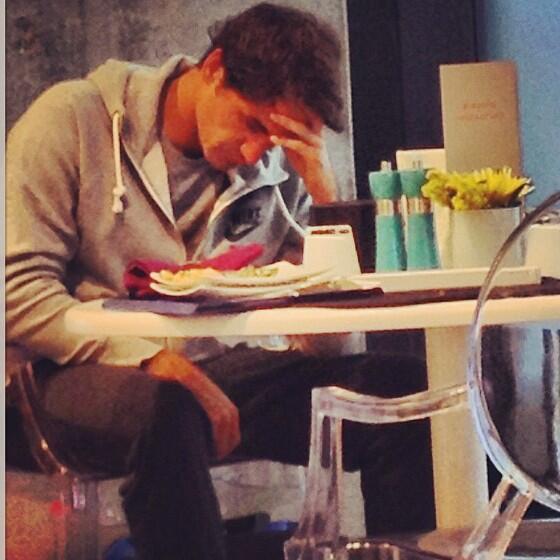 ROGER FEDERER was incredibly dumped out of the Madrid Open by Kei Nishikori.
The defending champ was beaten by the Japanese No 14 seed 6-4 1-6 6-2 in only the 3rd round of play at the Madrid Open.
And Nishikori said: "This is my biggest win yet. It's an amazing day."  "Clearly the favorite for this tournament is Nadal," Federer said.  "I'm disappointed with my match. Today Nishikori played better and the best man won," said Federer.  I'm going to go back to the practice court, train hard, and make sure I don't have these kinds of days anymore," said the Swiss, who will slip back behind Andy Murray at No. 3 in the Emirates ATP Rankings on Monday. "I was lacking control from the baseline, and that pretty much carried through from start to finish. I'm pretty disappointed with my play. I'm not sure how well Kei thought he played. I didn't think he had to play his very best either, which is even more disappointing.
It was clear that Federer was out of match practice as he struggled to keep the ball on his racquet during the entire first set.  His masterful second set seemed to be the end of Nishikori but Federer seemed to loose focus quickly in the third set when he failed to break in the first games and was visibly upset with himself when he could not return Nishikori's serve easily.
But Rafa Nadal made the last eight as he defeated Mikhail Youzhny 6-2 6-3 in just 75 minutes. The Spaniard is bidding to reach a seventh final in a row since returning from a seven-month lay-off with a knee injury.  He is the clear favorite to win now that No1 & No2 have been beaten.
Serena Williams beat Russia's Maria Kirilenko 6-3 6-1 in her third-round clash.
Watch Federer vs Nishikori highlights here: