FASHIONABLY GREAT: ANNA WINTOUR ON ROGER FEDERER, IN HER OWN WORDS
FASHIONABLY GREAT: ANNA WINTOUR ON ROGER FEDERER, IN HER OWN WORDS
by: ANNA WINTOUR | August 23, 2017
reprinted from Tennis Magazine
I first met Roger Federer over lunch in the summer of 2005. He was in town to win the U.S. Open—his second in a five-year streak—and a mutual friend had arranged for us to meet at Keith McNally's restaurant, Pastis, knowing that I was a fan. But "fan" is quite an understatement. I have flown across the world for his tournaments; I've endured agony when he's been a set down and ecstasy when he's stormed back; I have even missed more than the occasional fashion show—all for the privilege of witnessing Roger play what is surely the greatest tennis of all time. And it's no secret that he's appeared in Vogue about as often as Karlie Kloss. Everyone calls themselves Roger Federer fans. I consider myself a groupie.
Of course, all I want to ever discuss with Roger is tennis: his tennis, other players, the next Slam. But he wants to talk more about fashion. The truth is that Roger mostly wins that battle—he's used to winning—and I've spent nearly as much time with him at runway shows as I have sitting in his box at Arthur Ashe Stadium. Over the years, he's been my guest at Louis Vuitton, Chanel, Versace and Alexander McQueen. A decade ago, he and Mirka memorably joined me at Oscar de la Renta's show on the Monday morning after Roger won his fourth U.S. Open; the entire room, which is to say the entire fashion world, gave him a standing ovation.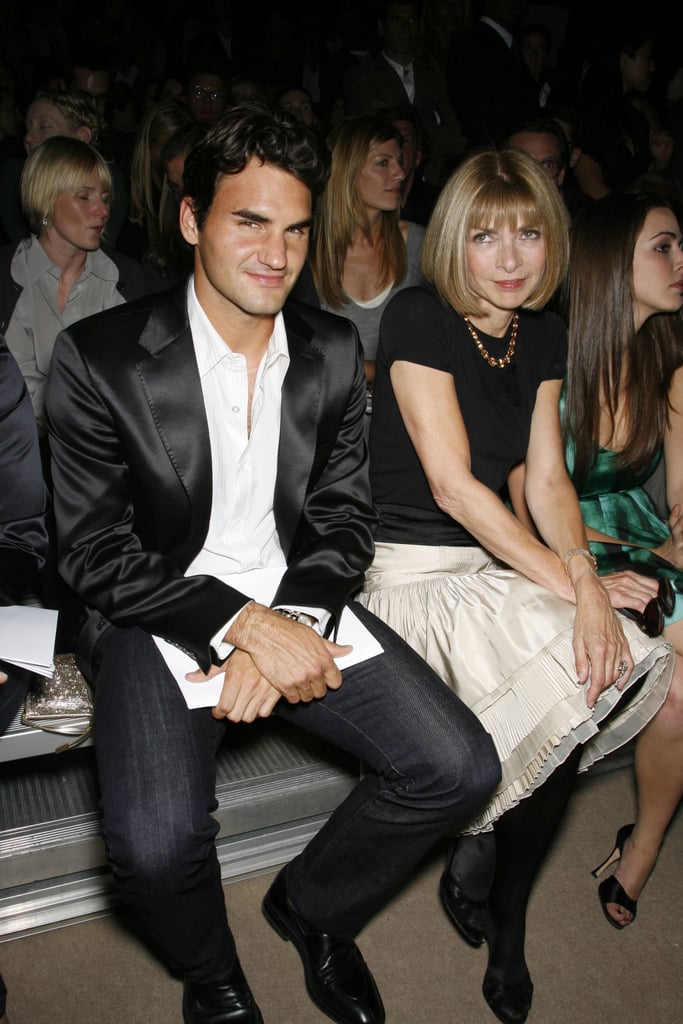 Those who know me will attest that my great passion, other than Roger's backhand, is the Metropolitan Museum's Costume Institute. And for nearly as long as I've been chairing the Costume Institute's annual fundraising gala, I have been inviting Roger and Mirka, who have always turned me down—our fault for scheduling an event in the middle of the clay-court season. So when Roger and Mirka accepted my invitation for the first time this year, I didn't let the opportunity go to waste. We immediately connected Roger with Alessandro Michele, the Gucci designer, who devised a black-tie look that was traditional in the front, but emblazoned with a massive, glittering crystal cobra on its back. And that night, Roger was by far the best dressed. Nineteen Grand Slams, one Met Gala and counting.
Anna Wintour is the editor-in-chief of Vogue.