BREAKING NEWS: TENNIS WORLD NO. 1 NOVAK DJOKOVIC TESTS POSITIVE FOR THE CORONAVIRUS
UPDATE: June 23, 2020 2:38 PM
Regulations that were not followed posted from the Serbian Government website
As of Jun 23, Serbian Government COVID-19 Crisis Team recommended 7 new measures to the Serbian Government:
1. COVID 19 tests will be performed also by private laboratories
2. Use of face masks is compulsory in public transport
3. Wearing masks indoor is recommended and strongly recommended in banks, post offices, any public institution …
4. Mandatory prescribed square meters per person indoors (offices, shops, public institutions, restaurants…): every man or woman indoors must have 3 square meters of space (for example max. 10 people per 30 m2)
5. Visits to patients at hospitals is banned
6. 15 min max. visits to elderly homes
7. Distance between people outdoors extended from 1m to 1.5m
Even though the Djokovic family @AdriaTennisTour says they followed all the guidelines one can easily see that this is not true reading the Serbian Government COVID-19 Crisis Team policy online and they were not deterred by the 13,092 cases in Serbia? pic.twitter.com/QeTZMCk2z4

— LoveSetMatch 💯🎾🔥 🏃🏻🇨🇭🐐 (@LoveSetMatch_) June 23, 2020
---
UPDATE June 23, 2020 9:23 AM
Video of Djokovic speaking about moving ahead with the tournament and footage of players interacting with each other and crowds not social distancing and not wearing masks.
Djokovic said he might not play US Open because their safety rules were too restrictive. So he created his own tournaments celebrating no restrictions and gets COVID-19. You can't write this stuff.

— Gregg Rosenthal (@greggrosenthal) June 23, 2020
---
UPDATE: June 23,2020 6:49 AM
statement from the Adria Tennis Tour Director Djordje Djokovic (Serbian: Đorđe Đoković / Ђорђе Ђоковић; born 17 July 1995) He is a Serbian tennis player.[2] He is the youngest son of Dijana and Srđan Đoković. He is the younger brother of Novak and Marko Djokovic.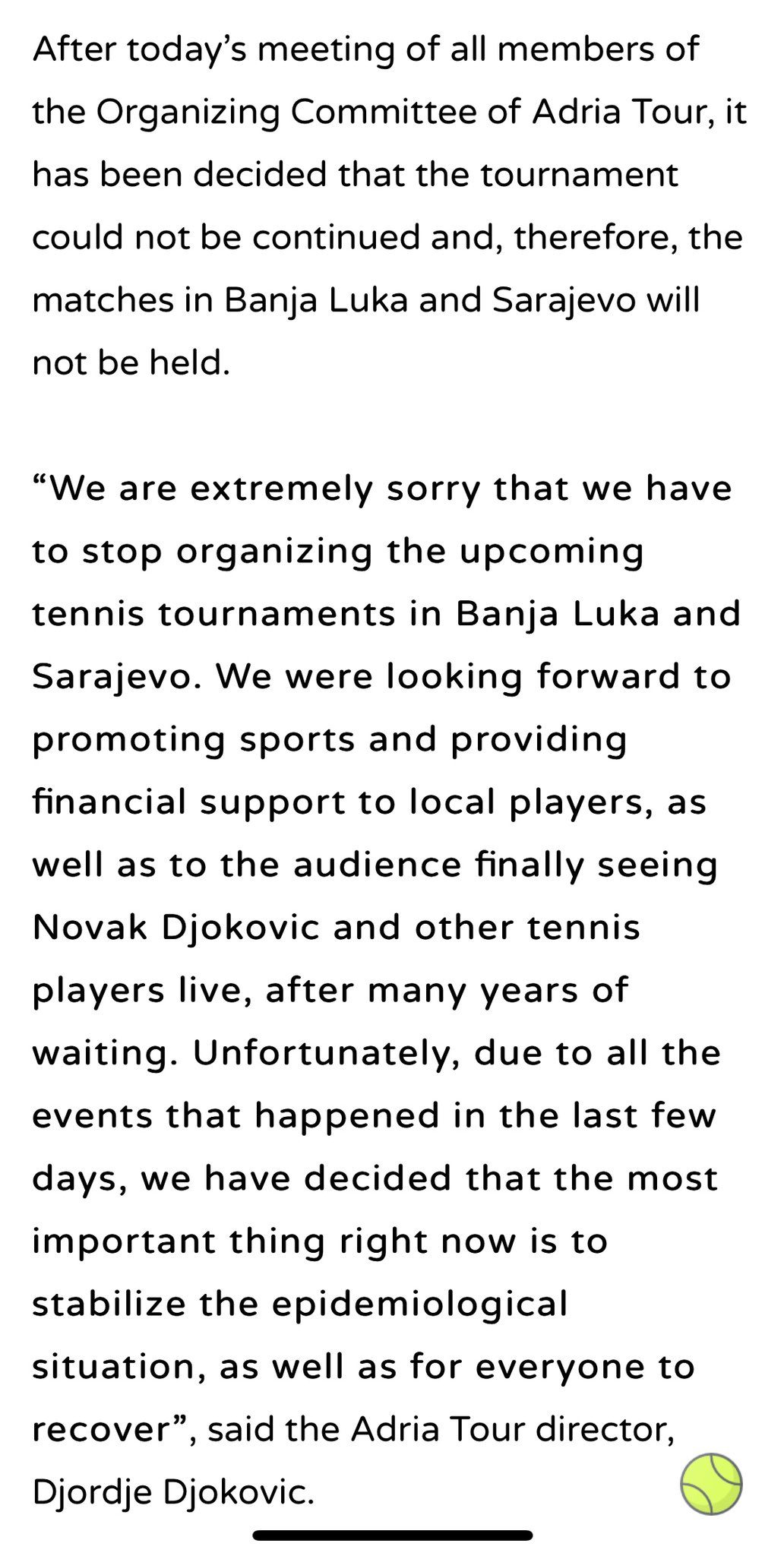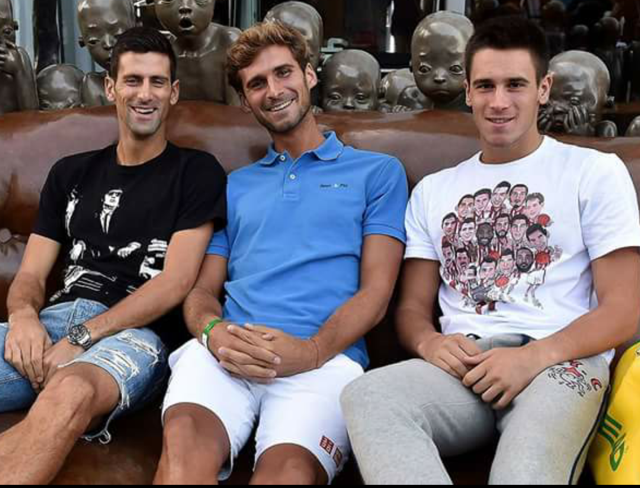 Novak's brother Djordje Djokovic is Adria tennis tour director explains a lot a family affair believe they are invincible Mothers quote "I am a Believer Novak believes in God he feels chosen carries a cross that brings him peace and happiness from the Greek monastery Hilandar"
---
UPDATE:  June 23, 2020 6:21AM
Jelena Djokovic, wife of Novak Djokovic, has also tested positive for the Coronavirus
---
BREAKING NEWS: TENNIS WORLD NO. 1 NOVAK DJOKOVIC TESTS POSITIVE FOR THE CORONAVIRUS – He is also president of the ATP Players Council and spearheaded the Atria Tour in Serbia where players have been infected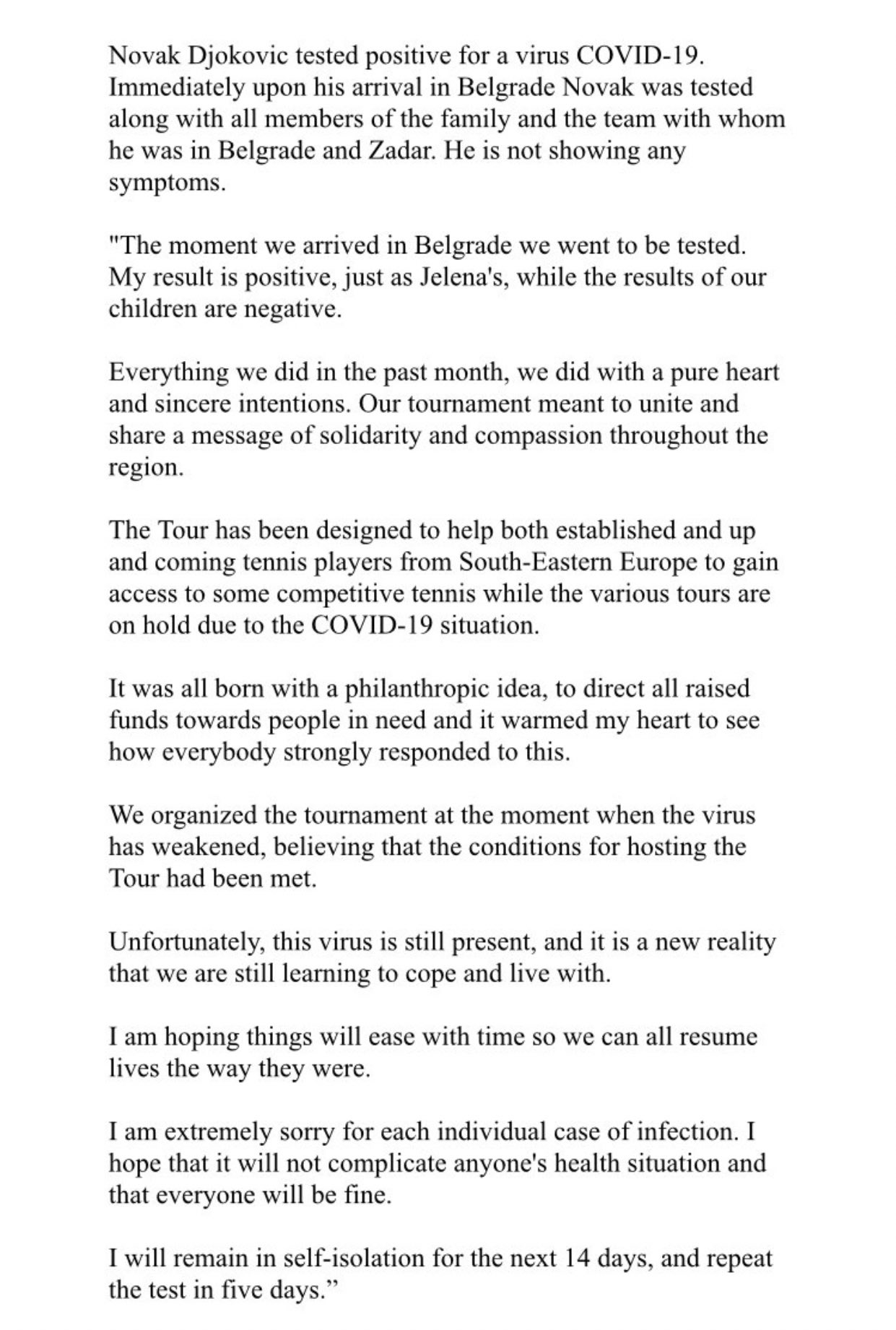 The Serb has come under tremendous criticism since the positive tests of Grigor Dimitrov and Borna Coric, who participated in the Djokvic-led Adria Tour.
Novak Djokovic tested positive for the coronavirus on Tuesday after taking part in a tennis exhibition series he organized in Serbia and Croatia.
The top-ranked Serb is the fourth player to test positive for the virus after first playing in Belgrade and then again last weekend in Zadar, Croatia. His wife also tested positive.
"The moment we arrived in Belgrade we went to be tested. My result is positive, just as Jelena's, while the results of our children are negative," Djokovic said in a statement.
Djokovic has been criticized for organizing the tournament and bringing in players from other countries amid the coronavirus pandemic.  The tournament has yet to post an apology stating that they followed the recommended guidelines even though social distancing and masks were clearly not shown in the footage and pictures of the event.
Viktor Troicki said Tuesday that he and his pregnant wife have both been diagnosed with the virus, while Grigor Dimitrov, a three-time Grand Slam semifinalist from Bulgaria, said Sunday he tested positive. Borna Coric played Dimitrov on Saturday in Zadar and said Monday he has also tested positive.
There were no social distancing measures observed at the matches in either country and Djokovic and other players were seen hugging each other and partying in night clubs and restaurants after the matches.
"Everything we did in the past month, we did with a pure heart and sincere intentions," Djokovic said. "Our tournament meant to unite and share a message of solidarity and compassion throughout the region."
Djokovic, who has previously said he was against taking a vaccine for the virus even if it became mandatory to travel, was the face behind the Adria Tour, a series of exhibition events that started in the Serbian capital and then moved to Zadar.
He left Croatia after the final was canceled and was tested in Belgrade. The statement said Djokovic was showing no symptoms.
Despite the positive test, Djokovic defended the exhibition series.
"It was all born with a philanthropic idea, to direct all raised funds towards people in need and it warmed my heart to see how everybody strongly responded to this," Djokovic said. "We organized the tournament at the moment when the virus has weakened, believing that the conditions for hosting the Tour had been met.
"Unfortunately, this virus is still present, and it is a new reality that we are still learning to cope and live with."
Djokovic said he will remain in self-isolation for 14 days and also apologized to anyone who became infected as a result of the series.
Organizers of the Adria Tour said the third stage of the event, scheduled to held next week in Bosnia, has been canceled.