ATP Ranking Update: Nadal 35pts shy of world No 4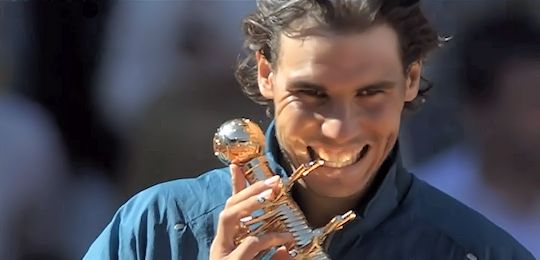 With another solid title win in the hands of Rafael Nadal, the King of Clay takes a big step toward being back in the top 4.
With the 1000pts achieved in Madrid, the Clay Master is only 35 points shy from David Ferrer. Actually since David is in Rafa's quarter in Rome, if the Mallorcan wins again in Italy we will probably be seed no.4 at the Roland Garros .
Stanislas Wawrinka had also a wonderful week to be the runner up in Rome, get 600 points and be ranked as world no.10.
The buzz boy, Grigor Dimitrov, climbed a few spots after defeating Novak Djokovic in Madrid to reach a career high of No 26. Pablo Andjur climbed a staggering 59 places after reaching the semifinal in Madrid to be ranked world no.54.
Janko Tipsarevic is now out of the top 10.
Here the full rankings for May 12, 2013
| | | |
| --- | --- | --- |
| Rank, Name & Nationality | Points | Week Change |
| 1 Djokovic, Novak (SRB) | 12730 | 0 |
| 2 Murray, Andy (GBR) | 8750 | 1 |
| 3 Federer, Roger (SUI) | 7760 | -1 |
| 4 Ferrer, David (ESP) | 6920 | 0 |
| 5 Nadal, Rafael (ESP) | 6895 | 0 |
| 6 Berdych, Tomas (CZE) | 4520 | 0 |
| 7 Del Potro, Juan Martin (ARG) | 4320 | 0 |
| 8 Tsonga, Jo-Wilfried (FRA) | 3965 | 0 |
| 9 Gasquet, Richard (FRA) | 3180 | 0 |
| 10 Wawrinka, Stanislas (SUI) | 2675 | 5 |
| 11 Tipsarevic, Janko (SRB) | 2650 | -1 |
| 12 Almagro, Nicolas (ESP) | 2570 | 0 |
| 13 Cilic, Marin (CRO) | 2535 | -2 |
| 14 Haas, Tommy (GER) | 2420 | -1 |
| 15 Nishikori, Kei (JPN) | 2270 | 1 |
| 16 Raonic, Milos (CAN) | 2225 | -2 |
| 17 Simon, Gilles (FRA) | 1940 | 0 |
| 18 Monaco, Juan (ARG) | 1830 | 1 |
| 19 Querrey, Sam (USA) | 1790 | -1 |
| 20 Isner, John (USA) | 1725 | 1 |
| 21 Seppi, Andreas (ITA) | 1700 | -1 |
| 22 Kohlschreiber, Philipp (GER) | 1670 | 0 |
| 23 Dolgopolov, Alexandr (UKR) | 1420 | 0 |
| 24 Janowicz, Jerzy (POL) | 1354 | 0 |
| 25 Fognini, Fabio (ITA) | 1345 | 0 |
| 26 Dimitrov, Grigor (BUL) | 1342 | 2 |
| 27 Anderson, Kevin (RSA) | 1340 | 0 |
| 28 Mayer, Florian (GER) | 1340 | -2 |
| 29 Chardy, Jeremy (FRA) | 1301 | 0 |
| 30 Youzhny, Mikhail (RUS) | 1265 | 1 |
| 31 Klizan, Martin (SVK) | 1190 | -1 |
| 32 Benneteau, Julien (FRA) | 1155 | 0 |
| 33 Rosol, Lukas (CZE) | 1100 | 1 |
| 34 Robredo, Tommy (ESP) | 1095 | 2 |
| 35 Melzer, Jurgen (AUT) | 1085 | -2 |
| 36 Paire, Benoit (FRA) | 1065 | 1 |
| 37 Granollers, Marcel (ESP) | 1055 | -2 |
| 38 Baghdatis, Marcos (CYP) | 1030 | 0 |
| 39 Bellucci, Thomaz (BRA) | 977 | 0 |
| 40 Fish, Mardy (USA) | 945 | 2 |
| 41 Nieminen, Jarkko (FIN) | 945 | 2 |
| 42 Troicki, Viktor (SRB) | 930 | 2 |
| 43 Lopez, Feliciano (ESP) | 930 | 2 |
| 44 Davydenko, Nikolay (RUS) | 915 | -3 |
| 45 Istomin, Denis (UZB) | 900 | 4 |
| 46 Gulbis, Ernests (LAT) | 885 | 1 |
| 47 Zeballos, Horacio (ARG) | 883 | -7 |
| 48 Stepanek, Radek (CZE) | 880 | 0 |
| 49 Gimeno-Traver, Daniel (ESP) | 857 | 3 |
| 50 Dodig, Ivan (CRO) | 848 | 0 |
| 51 Zemlja, Grega (SLO) | 846 | 0 |
| 52 Tomic, Bernard (AUS) | 835 | 1 |
| 53 Verdasco, Fernando (ESP) | 830 | -7 |
| 54 Andujar, Pablo (ESP) | 825 | 59 |
| 55 Malisse, Xavier (BEL) | 821 | 1 |
| 56 Hanescu, Victor (ROU) | 815 | -2 |
| 57 Tursunov, Dmitry (RUS) | 794 | 0 |
| 58 Brands, Daniel (GER) | 781 | 0 |
| 59 Goffin, David (BEL) | 762 | 0 |
| 60 Matosevic, Marinko (AUS) | 761 | -5 |
| 61 Llodra, Michael (FRA) | 759 | 0 |
| 62 Mayer, Leonardo (ARG) | 757 | -2 |
| 63 Berlocq, Carlos (ARG) | 750 | 0 |
| 64 Lorenzi, Paolo (ITA) | 746 | -2 |
| 65 Ramos, Albert (ESP) | 740 | 0 |
| 66 Bautista Agut, Roberto (ESP) | 734 | -2 |
| 67 Haase, Robin (NED) | 717 | 10 |
| 68 Berankis, Ricardas (LTU) | 698 | -1 |
| 69 Sijsling, Igor (NED) | 688 | 0 |
| 70 Falla, Alejandro (COL) | 676 | -4 |
| 71 Garcia-Lopez, Guillermo (ESP) | 676 | -3 |
| 72 Mathieu, Paul-Henri (FRA) | 674 | 3 |
| 73 Lu, Yen-Hsun (TPE) | 673 | -2 |
| 74 Baker, Brian (USA) | 667 | -2 |
| 75 Lacko, Lukas (SVK) | 667 | -2 |
| 76 Roger-Vasselin, Edouard (FRA) | 666 | -2 |
| 77 Kamke, Tobias (GER) | 651 | -1 |
| 78 Giraldo, Santiago (COL) | 650 | 3 |
| 79 Donskoy, Evgeny (RUS) | 639 | 0 |
| 80 Muller, Gilles (LUX) | 631 | -10 |
| 81 Bedene, Aljaz (SLO) | 617 | 5 |
| 82 Kuznetsov, Andrey (RUS) | 612 | 0 |
| 83 Hewitt, Lleyton (AUS) | 610 | 0 |
| 84 Bolelli, Simone (ITA) | 603 | -4 |
| 85 Harrison, Ryan (USA) | 598 | -7 |
| 86 Levine, Jesse (CAN) | 588 | 6 |
| 87 Bogomolov Jr., Alex (RUS) | 587 | 24 |
| 88 Ram, Rajeev (USA) | 578 | 20 |
| 89 Montanes, Albert (ESP) | 573 | 1 |
| 90 Dutra Silva, Rogerio (BRA) | 572 | -6 |
| 91 De Schepper, Kenny (FRA) | 572 | -6 |
| 92 de Bakker, Thiemo (NED) | 572 | -5 |
| 93 Blake, James (USA) | 571 | -5 |
| 94 Becker, Benjamin (GER) | 568 | -5 |
| 95 Russell, Michael (USA) | 563 | -4 |
| 96 Ungur, Adrian (ROU) | 552 | 4 |
| 97 Petzschner, Philipp (GER) | 550 | -3 |
| 98 Kavcic, Blaz (SLO) | 548 | -3 |
| 99 Kubot, Lukasz (POL) | 547 | -3 |
| 100 Alund, Martin (ARG) | 545 | -3 |